INT. TENNIS-POINT OPEN (04.04. - 11.04.2021)
Tennis-Point ITF first took place in 2019 and was anabsolute success. For this reason we are starting a second round of theInternational Tennis-Point tournament, to be held at the Ali Bey resort Sorgun.Enjoy the comfort of the Deluxe resort at close quarters and at the same timethe tournament week comprising at least 6 matches on 52 tennis courts.Attractive prizes await the winning contestants of the singles.
*The date has already been officially requested, changes are still possible.
Our secret tip for you: Book the week as a perfect combination with our traditional Wilson Open and be sure of even more advantages!
service package

Accommodation in Deluxe double room
All-inclusive catering in hotel and at the tennis centre
Tourist sight-seeing guidance
Tennis-Point special packet:

A welcome gift and event shirt
On-the-spot Select service
EUR 20 Tennis-Point voucher**
Match service and event support.
B tournament with prizes.
Gala Dinner
Welcome Party
Tennis-Point event bonus
Tennis-Point event bonus

** 20 euro Tennis-Point voucher redeemable on purchase price of 70 euro except for reduced items or special offers, in the new Tennis-Point stores at Patricio World class tennis camps.
travel details

Conditions
The tournament is open to all male and female players. The ITF tennis rules apply. Should a minimum of 6 pairs not enrol for a doubles competition, the tournament committee reserves the right to cancel the competition or to introduce age groups.In the event of poor weather the tournament organizers reserve the right to alter the game mode. The tournament organizers reserve the right to modify the invitation/ fact sheets.
IPIN entry
All enrolments and cancellations must be made with valid IPIN membership directly to ITF. Players who still have no IPIN should register at:
www.itftennis.com/IPIN
Mode of play
All losers in the first singles round continue to play in the new round.  In this way every participant has several singles games during the tournament week. The tournament committee reserves the right to make alterations.
Gala Night

The Gala night (Players' night) is free of charge to all tournament competitors living in the Ali Bey Resort Sorgun.
Spielerkonkurrenzen und Altersklassen

Lady's and men's singles, doubles and mixed:
35+, 40+, 45+, 50+, 55+, 60+, 65+, 70+, 75+
draw
Sunday, 04/04/2021, 17:00 for singles competitors.
Monday, 05/04/2021 until 15:00 sign in for the mixed and doubles competitors, followed by the draw.
Closing of entries
Will soon be announced
Tournament start
Monday, 05/04/2021 from 09.00. During playing times competitors are under obligation to submit information.
Entry fee
EUR 95 for all players. Players with travel bookings through Patricio Travel are entitled to a bonus of EUR 35 per competitor. The fee entitles one to taking part in one singles and two doubles matches and a further round in singles, also participation in the welcome reception and presentation ceremony. The fee should be paid by transfer/ credit card immediately after the ITF enrolment or it can be settled at the same time as travel bookings.
Ball brand
Wilson US Open
Winners prizes
The winner of the singles competitors receive an additional 1 week (7 x Al). the finalists receive 2 days (2 x Al) free of charge at the Ali Bey Resort Sorgun for the International Tennis-Point Open 2022.
The semi finalists of the main round, the final match participants of the further round and the finalists of the doubles' competitors receive non-cash prizes (including sport equipment from Tennis-Point and Patricio Travel vouchers).
ITF / IPIN Service Fee

Starting in 2020 every player pays a ITF/IPIN fee of 5 euro directly to the promotor for each ITF tournament. At the same time the annual fee of  $25 which until now has been paid directly to the ITF has been dropped.
NOTE: Due to weather conditions, both the training sessions and the LK tournaments may be cancelled. Reimbursement is not possible. If training sessions/LK tournaments are cancelled for this reason, we will try to make up for it during the week of the event. Please bear in mind that the currently advertised team is always subject to change. Should a team member be unable to participate, we will try to find a suitable replacement.
The resort complexes of the Ali Bey chain offer exceptional flair and deluxe character. The direct beach situation and attractive garden landscape enhance a dreamlike holiday. This resort will satisfy guests with the highest demands. The architectural style is based on the elegant Bosporus houses of Istanbul and was planned by a renowned designer. For a relaxing or sport orientated holiday the 2.000 sqm "Samara SPA-Centre", the 15.000 sqm Aqua Park, a professional Fitness First Platinum Studio, the PCT Tennis academy and the Patricio world-class tennis camp await you. Enjoy good service and the culinary delicacies of the renowned Ali Bey Group.
HIGHLIGHTS

52 tennis courts
Patricio Office

PCT Tennis academy

Tennis-Point stores

Tennis bar

Playing partner exchange

Tennis events

ITF world-class tournaments

Fitness First Platinum Studio

Samara SPA

Heated pool

When possible early check-in / late check-out

TRAVEL PERIOD

End of March - beginning of November
BOARD: ALL-INCLUSIVE:

At mealtimes you may help yourself to varied nourishing dishes and Show- Cooking" at the buffets. Breakfast buffet with freshly pressed orange juice. Late riser breakfast, lunch buffet, diet and whole wheat products, afternoon snacks, ice cream and evening meal as buffet, midnight snacks. Mini bar (re- filled daily with soft drinks, beer, wine nuts and chocolate). Local alcoholic and non- alcoholic drinks (excluding some wines and champagnes) are available in the variously opened bars and restaurants in the resort round the clock.
SITUATION

Situated on the quiet 300 m long sandy beach. Side is approx., 2 km away with various shopping facilities. The city centre of Antalya is about 70 km distant. Taxi and Dolmus connections are available.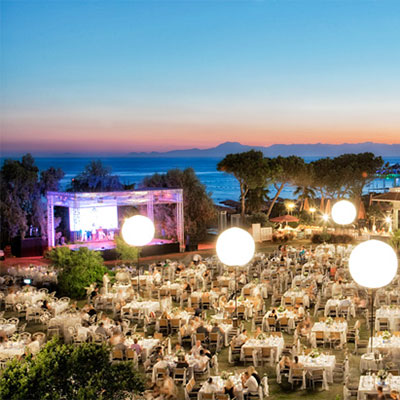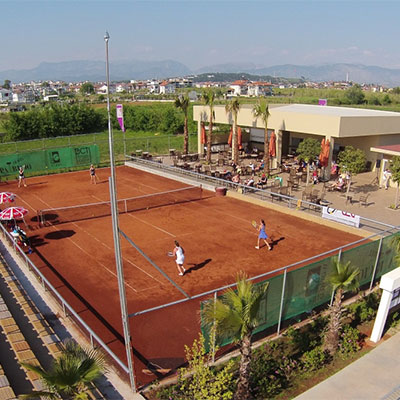 THIS IS WHAT YOUR RESORT OFFERS

9This luxurious resort opened in 2010 and consists of twelve, three storey guest houses built in the style of the Istanbul - Bosporus houses. They stretch over some 120.000 sqm directly on the shore. Guests are offered a main restaurant with terrace, international Snack a la carte restaurant (open according to season), pool bar, 2 a la carte restaurants (with fee), bars, mini market, shopping passage, Irish pub and disco, Show stage, Hairdresser, cosmetic studio and conference rooms with business centre. Beautiful wide reaching gardens with spacious pool landscape, large activity pool, and separate children's pool and according to weather - heated pool, Kneip therapy pool and relaxing pool. Sun beds, umbrellas and towels are free of charge at both pool and beach. With a fee private beach pavilions available.
Credit cards: VISA, Mastercard, Amex, Diners
Country category: 5 star; room: 429
OTHER SPORT ACTIVITIES

All-inclusive: Hamam, Steam bath, saunas, aerobic, watergymnastics. Archery, beach volleyball, mini golf, table tennis, boccia, waterpolo, and darts. A large trained animation team assure games, fun and entertainment.

In the evenings professional shows and well-known musicals will be offered toyou on the stage. Once a week Gala evening in black and white. Also guests are asked to dress elegantly.

NEW: PADEL SEATS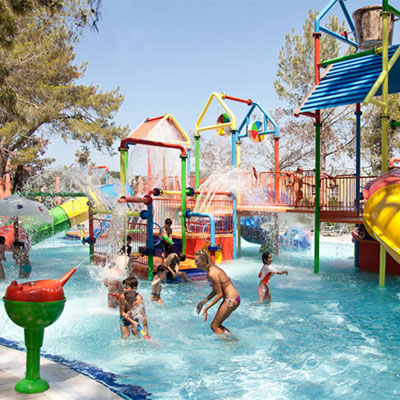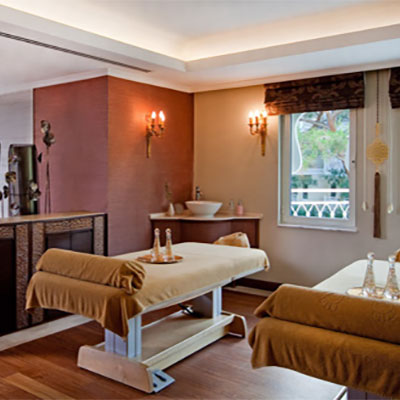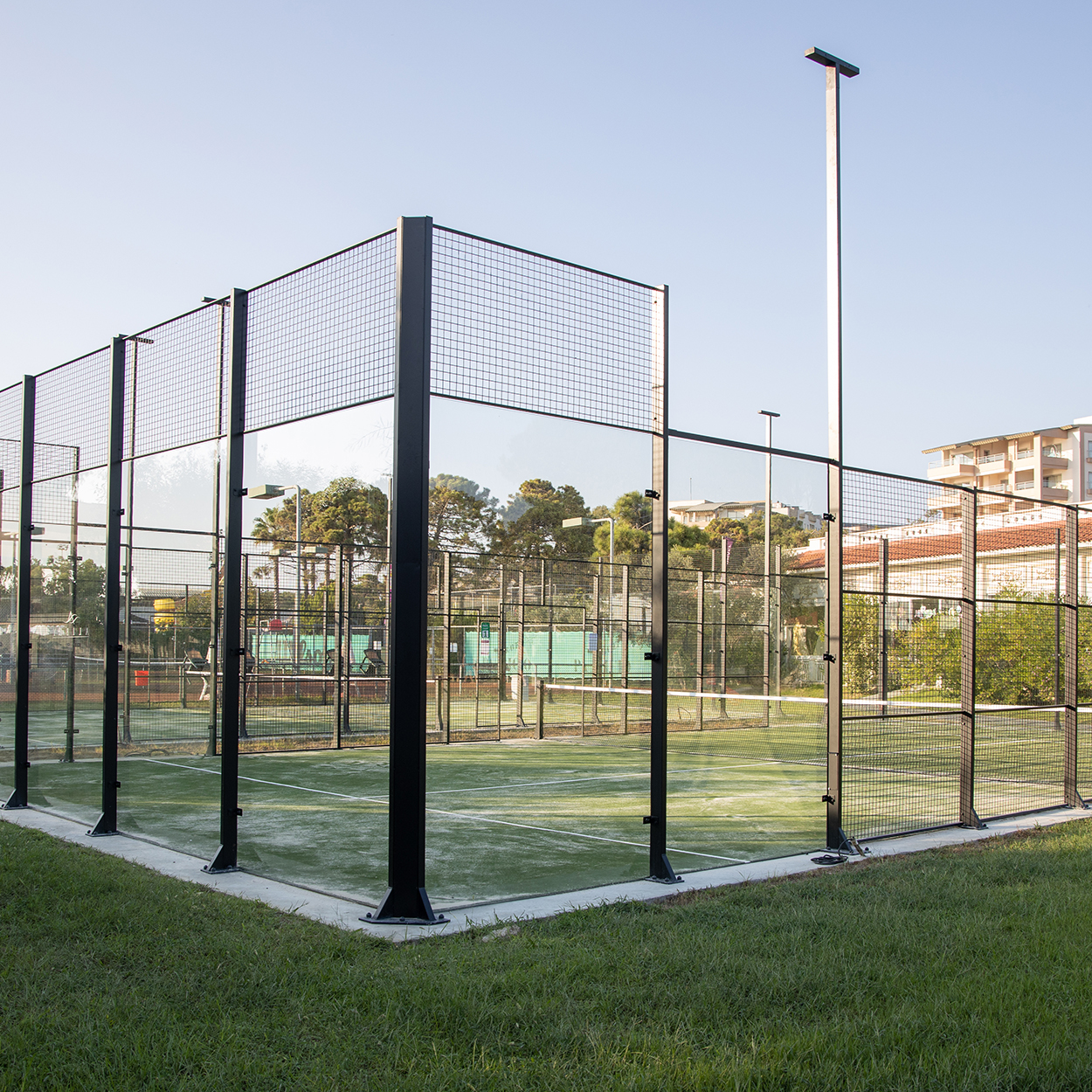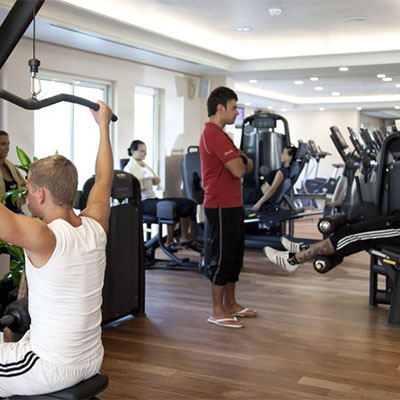 ROOM/ACCOMODATION

The elegant deluxe rooms (approx. 30-36 sqm) include telephone, LCD- Sat.- TV with music channel, safe, mini bar, central air-conditioning, Tea and coffee maker, marble bath room with Jacuzzi, pillow menu, shower, WC, hair-dryer, bath robe and balcony. The spacious and luxurious deluxe suites (approx. 48 sqm) offer an additional living room with sitting corner with otherwise identical amenities. The family suites (approx. 61 sqm) comprise two bedrooms separated by a door, one room with double bed the other with two single beds, together with two bathrooms, one of which includes a Jacuzzi the other a shower, 2 LCD Sat.-TV, otherwise the same amenities. Family-Duplex-Suites (approx. 62 sqm) on two levels have the same amenities as family- suites. Premium Living: Patricio guests are accommodated in the vicinity of the beach when possible.