4. Internationale Tennisweek
24/09-01/10/2022
The tennis week of your life!

This tennis week offers everything for experienced but also for absolute tennis beginners: International Tennis Week on the gorgeous Croatian island of Brac, known for its white beach and clear turquoise waters, promises to be your unforgettable autumn experience with the best mix of tennis, fun and party.

The manyTennis-Point & BIDI-BADU promotions are all about "SUMMER, SUN, BEACHand more ..." You will experience different sports every day, everythingwill be rounded off by DJ sessions - and the weather makes it perfect!

There isalso plenty of time for tennis: In cooperation with our professional coaches,we offer you as an experienced tennis player an optional training package onfour mornings this week.

You'venever played tennis before and want to try it out in perfect surroundings? Noproblem: We also offer you the option of a 3-day "fast-learning"taster training.

If you are curious about the week, then join usand experience the tennis week of your life!
Our service package

7 nights in a standard double room on the land side (other room categories can be booked for a surcharge)

7 x half board meals

Tennis-Point CUP:

Mind. 3 fun singles/doubles and mixed challenges during the week with first class tournament organisation by Tennis-Point & BIDI-BADU
Award ceremony and final party
ONE-POINT TOURNAMENT by Tennis-Point

e.g. Freaky Water Challenge with BIDI-BADU

Pool Olympics and many more crazy tournaments ...

Prizes: Win a week's free stay for Bluesun Hotel Elaphusa during the Int. TennisWeek 2023, Tennis-Point & BIDI-BADU material prizes and Patricio travel vouchers

OPTIONAL TRAINING PACKAGE 4X TOP PLAY

4 x training: Top Play for 99€ (90 minutes)‍
more speed in your strokes

Player behaviour Individual

More precision in your strokes

3 x training "Fast-Learning" for 79€ (90 minutes)
Are you a beginner or have you played tennis in the past and just need some routine in your strokes again? We can do it in one holiday with "fast learning":
Learn to control the ball
How do I stand correctly to the ball and recognise the speed?

Get precision in your strokes

How do I react correctly to the opponent's ball?

party**

Party Night under the Open Sky

BBQ on the beach & sundowner**

Daily DJ sessions at the tennis centre

Party all night long:

More specials:

WelcomingTennisWeek Starter-Event**

Tennis-Point event shirt

Event support on site

Tourist sight-seeing guidance

EUR 20 Tennis-Point voucher*
Optional Fun activities during the Event week:
Bike tour on the island of Brac
Island-hopping on the neighbouring island of Hvar.
Wine Tasting Night with guide in Bol
549€ on your own arrival
* Redeemable from a minimum purchase value of 70 EUR excluding special prices / promotions - for the Tennis-Point-Store in Bol, Croatia
** Execution depends on the applicable hygiene regulations at the time of the trip
Request a booking here
NOTE: Due to weather conditions, both the training sessions and the LK tournaments may be cancelled. Reimbursement is not possible. If training sessions/LK tournaments are cancelled for this reason, we will try to make up for it during the week of the event. Please bear in mind that the currently advertised team is always subject to change. Should a team member be unable to participate, we will try to find a suitable replacement.
BLUESUN GRAND HOTEL ELAPHUSA

The Bluesun Grand Hotel Elaphusa was completely renovated in 2021/2022 and offers all tennis enthusiasts optimal conditions for a successful tennis and sports holiday on the famous Croatian island of Brac at the world-class tennis camp in Bol (island of Brac, Croatia) with 26 sand tennis courts, two centre courts, an impressive tennis stadium and the Kids Tennis Fun Academy.The Golden Horn "Zlatni Rat" and the beautiful old town of Bol are only a few minutes' walk away.

The tennis camp is one of the largest and most beautiful tennis facilities in Europe. The hotel's own wellness oasis and beauty farm offers a comprehensive pampering programme. It is not without reason that the Bluesun Grand Hotel Elaphusa was awarded the title of best SPA hotel in Croatia in 2017. The 4.5 star hotel is ideal for guests who want to combine their holiday with a stylish ambience, tennis and wellness.
HIGHLIGHTS

26 Tennis courts
Kids Tennis Fun Academy (1 court)
PCT-Tennis academy

Patricio Office

24 hr, re-stringing service

Center Court in the stadium

Tennis bar

Tennis-Point Store

Playing partner exchange

Weekly guest tournaments

Tennis events

Exceptional wellness centre

Indoor pool

When possible early check in / late check out

TRAVEL PERIOD

end March - end October
BOARD: HALF BOARD

In the morning a varied buffet awaits you, including Bio corner with whole grain, diet and vegetarian products. In the evening you can choose from cold and warm dishes at the buffet. The main course offers a wide selection of local and international dishes. "Show-cooking" puddings buffet. 2 x each week there is a theme evening. Gentlemen are asked to wear long trousers for dinner.

Full board plus (lunch & dinner incl. Local drinks) can only be booked by Tennis-Point & Patricio Travel for a surcharge of end of march - beginning of may & october
SITUATION

Directly in the front beach row, in a well maintained garden, just 50 m from the shingle beach. The most beautiful beach on the Adriatic "Zlatni Rat", the Golden Horn and the Old City of Bol are all reached within a few minutes' walk.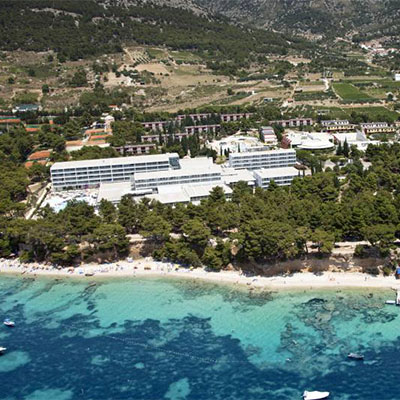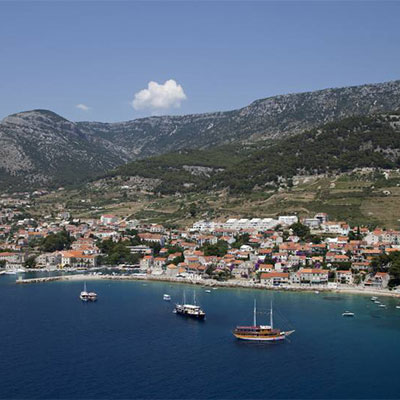 THIS IS WHAT YOUR HOTEL OFFERS

This elegant hotel comprises of four multi-storey buildings each with a lift. The fully air-conditioned complex offers you, main restaurant, á la carte restaurant with pleasant Mediterranean atmosphere, non-smoking restaurant, aperitif bar, indoor sea water pool, hairdresser, café, shop and disco. A professional congress centre with various rooms for events. The outdoor sea water pool offers a separate children's pool, whirlpool, pool bar and sun terrace. The excellent wellness are has repeatedly earned the hotel the label "Best wellness hotel in Croatia". Sun beds and umbrellas free of charge at the pool and for rent on the beach. Pets are allowed but charged. There are 144 rooms, 156 Superior rooms and six suites.

Credit cards: Mastercard,Visa, Amex, Diners
OTHER SPORT ACTIVITIES

Free of charge: Boccia, water gymnastics and 1 hour try-out surfing. 6 x a week during the daytime and evening's entertainment programs are held for children and adults (according to season). Live music or shows are offered and there is a terrace for dancing (also seasonal).

For a charge: Indoor Golf simulator, and bowling alley. Kayak, peddle boat, water ski, Jet Ski, banana boat, tube, para-sailing, wind surfing and diving centre on the beach (seasonal local providers).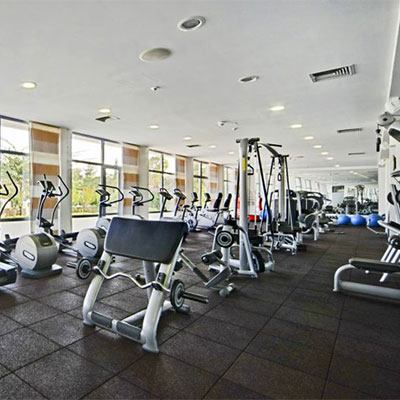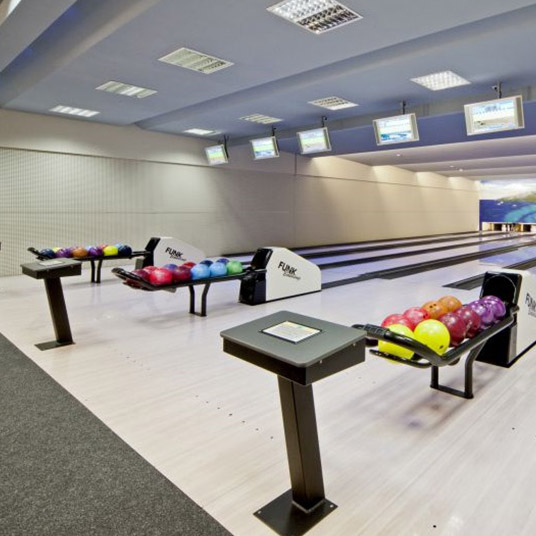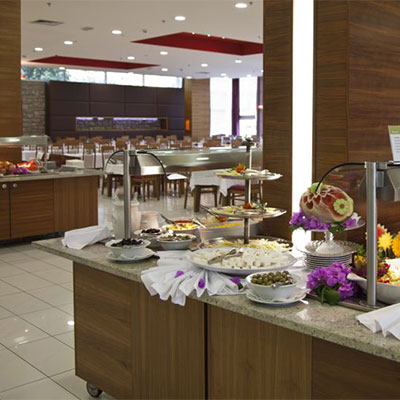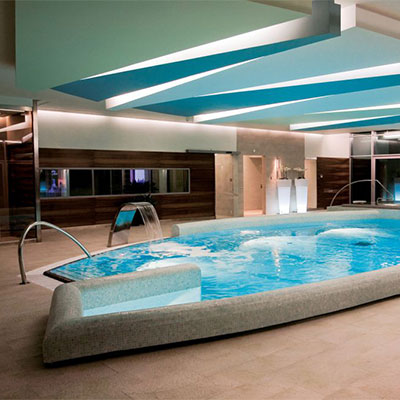 ROOM/ACCOMODATION

All rooms are tastefully decorated and of high quality, they provide bath/WC, air-conditioning, hair drier, mini bar, Plasma-TV (Sat), safe (no charge) and telephone. The Superior rooms are more spacious (approx. 28 - 32 sqm) offer however the same amenities. You can choose between rooms facing inland without balcony (DB, SDB) or rooms with balconies facing the sea (DBBM, SDBBM).

Room upgrade at Bluesun Grand Hotel Elaphusa (prices p.p./night)
Standard double room for single use only 12,- EUR
Standard double room ocean view 8,- EUR
Superior double room inland view 8,- EUR
Superior double room ocean view 19,- EUR