9TH INT. ALI BEY SENIOR OPEN (11.10. - 18.10.2020)
ALI BEY CLUB Manavgat
As "Younger brother" of the International Wilson Senior Open this tournament offers the same optimal conditions and no way should it be neglected in your tournament calendar. With a cosmopolitan field of participants,  comprehensive support and an attractive side program at the Ali Bey Club Manavgat, the Ali Bey Senior Open is the perfect finale to the 2020 tennis season.
The service package


Accommodation in Deluxe double room
All-inclusive catering in hotel and at the tennis centre

Tourist sight-seeing guidance

Tennis-Point special packet:

A welcome gift and event shirt
On-the-spot Select service

EUR 20 Tennis-Point voucher*
Event packet:


Match service and event support.

B tournament with prizes.

Gala Dinner
Welcome Party
Tennis-Point event bonus

Tennis-Point event bonus
* 70 euro Tennis-Point voucher redeemable on purchase price of 50 euro except for reduced items or special offers, in the new Tennis-Point stores at Patricio World class tennis camps.
DRAW
Sunday, 22/03/2020, 17:00 for singles competitors.
Monday, 23/03/2020 until 15:00 sign in for the mixed and doubles competitors, followed by the draw.
CONDITIONS
The tournament is open to all male and female players. The ITF tennis rules apply. Should a minimum of 6 pairs not enrol for a doubles competition, the tournament committee reserves the right to cancel the competition or to introduce age groups.In the event of poor weather the tournament organizers reserve the right to alter the game mode. The tournament organizers reserve the right to modify the invitation/ fact sheets.

MODE OF PLAYAll losers in the first singles round continue to play in the new round.  In this way every participant has several singles games during the tournament week. The tournament committee reserves the right to make alterations.
SPIELERKONKURRENZEN UND ALTERSKLASSENLady's and men's singles, doubles and mixed:35+, 40+, 45+, 50+, 55+, 60+, 65+, 70+, 75+
CLOSING OF ENTRIES
Will soon be announced
ENTRY FEEEUR 95 for all players. Players with travel bookings through Patricio Travel are entitled to a bonus of EUR 35 per competitor. The fee entitles one to taking part in one singles and two doubles matches and a further round in singles, also participation in the welcome reception and presentation ceremony. The fee should be paid by transfer/ credit card immediately after the ITF enrolment or it can be settled at the same time as travel bookings.
IPIN ENTRYAll enrolments and cancellations must be made with valid IPIN membership directly to ITF. Players who still have no IPIN should register at:
www.itftennis.com/IPIN
ITF / IPIN SERVICE FEEStarting in 2020 every player pays a ITF/IPIN fee of 5 euro directly to the promotor for each ITF tournament. At the same time the annual fee of  $25 which until now has been paid directly to the ITF has been dropped.
GALA NIGHTThe Gala night (Players' night) is free of charge to all tournament competitors living in the Ali Bey Resort Sorgun.
TOURNAMENT STARTMonday, 23/03/2020 from 09.00. During playing times competitors are under obligation to submit information
BALL BRAND
Wilson Tour Clay Germany
WINNERS PRIZES
The winner of the singles competitors receive an additional 1 week (7 x Al). the finalists receive 2 days (2 x Al) free of charge at the Ali Bey Resort Sorgun for the International Tennis-Point Open 2021.The semi finalists of the main round, the final match participants of the further round and the finalists of the doubles' competitors receive non-cash prizes (including sport equipment from Tennis-Point and Patricio Travel vouchers).
Event travel price
Event price in players hotel Ali Bey Club  Manavgat from 469 euro
Patricio event bonus included

Patricio players bonus included
Conditions

Ali Bey Open entry fee 95 euro
ITF / IPIN Service Fee
5 euro per ITF tournament
Over Patricio Travel you have the possibility to take advantage of a ERV travel insurance. All information can be obtained from our service team.
Room upgradeSupplements per person / week
Extension day in a standard double room: 74,- EUR
Standard double room for single use only 119,- EUR
Superior double room 70,- EUR
Superior double room for single use only 210,- EUR
NOTE: Due to weather conditions, both the training sessions and the LK tournaments may be cancelled. Reimbursement is not possible. If training sessions/LK tournaments are cancelled for this reason, we will try to make up for it during the week of the event. Please bear in mind that the currently advertised team is always subject to change. Should a team member be unable to participate, we will try to find a suitable replacement.

This perfectly run club has been renowned for years as being one of the most popular holiday addresses on the Riviera. Its' numerous regular guests value the attentive service and the wide selection of sport and entertainment offers. The club complex has been designed in Ottoman style with 30 double storey guest houses built in far reaching beautiful gardens. The oriental flavour gives this hotel an unrivalled charm. In addition you will find the largest tennis camp in the world and the Fitness First Studio, which offers optimal conditions for a perfect sport holiday.
HIGHLIGHTS
65 tennis courts
2 padel courts
Kids Tennis Fun Academy (4 courts)

Practicewall

PCT Tennis academy

Patricio Office

Tennis-Point store

Center Court

Tennis bar

24 hr, re-stringing service

Playing partner exchange

Weekly guest tournaments

ITF- World-class tournaments

Tennis events

Fitness First Studio

Heated main pool

Enormous Aqua Park

When possible early check-in / late check-out

Survivor Park

TRAVEL PERIOD
End of March - Beginning of November
BOARD: ALL-INCLUSIVE
All-inclusive: At meal times you may help yourself to nourishing and varied delicacies and "Show-cooking" at the buffets. Breakfast buffet with freshly pressed orange juice, late riser breakfast, lunch buffet, snacks at the pool bar, ice-creams, evening meal as buffet with "Show-cooking". Mini bar refreshed daily with soft drinks and beer. National alcoholic and non-alcoholic drinks (except some wines and champagnes) in the various club bars and restaurants.
SITUATION
Situated directly on the long sand/ shingle beach of Side. It is 12 km to Manavgat and 17km to Side with its many shopping facilities and historic sites. Dolmus can be reached by taxis available in front of the hotel.
THIS IS WHAT YOUR CLUB OFFERS
This 300.000 sqm spaciously designed club complex impresses with its' architectural arrangement and its' wonderful, well maintained and established gardens over which the 30 two storey guest houses are distributed. The comforts of this club include air-conditioned main restaurant, panorama a la carte restaurant (May to October with fee), shopping centre, Turkish café, TV and reading corner, pool bar, other bars, disco and a la carte pizza & pasta in the beach restaurant (May to September according to weather), Pavilion with catering ( with fee and according to weather). The large fresh water pools and Relax pool are circled by the sun terrace. Sun beds, umbrellas, mattresses and towels are free of charge at the pools, in the Aqua Park and at the beach.
‍
Credit cards: VISA, Mastercard, Amex, Diners
Country category.: 4 stars; room: 450
OTHER SPORT ACTIVITIES
Aqua Park, Fun court (mini football), Loopyball, water polo, beach volleyball, shuffleboard, table tennis, boccia, air gun shooting, football pitch. A large trained animation team assure games, fun and entertainment. On the large show stages during the evenings you will be offered professional shows, well-known musicals and live music (according to season). 1 x weekly Gala evening in black and white (May to September) Gusts are requested to dress elegantly.For a charge: Fitness First Studio, Adventure Park, mini golf, Cycle hire.
ROOM/ACCOMODATION
The approx. 26 sqm club room decorated with ceramics and wood offers Sat-TV, mini bar, shower, WC, hair-dryer, centrally controlled air-conditioning, telephone, safe and balcony. EZ = DZ Family rooms (approx. 40 sqm) have the same amenities, comprise of two rooms divided by a swing door. The elegant Superior rooms (approx. 26 sqm) are supplied with Sat-LCD TV, mini bar, air-conditioning, safe, music channel, telephone, shower/WC, hair-dryer, marble floor. The Superior family rooms (approx., 40 sqm) are fitted as the Superior rooms, comprise two separate rooms, one double bed, two single beds, i bath with shower, 2 LCD TV.
Beautiful Living: Patricio Travel guests live predominantly in close range of the beach.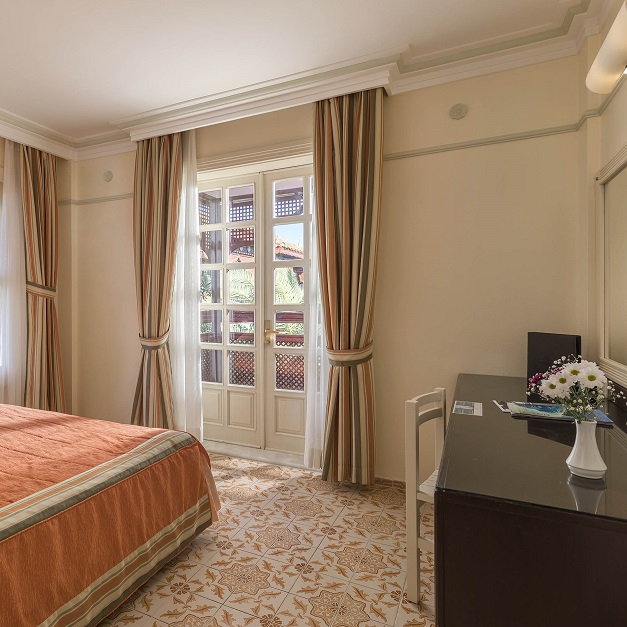 The professional German PCT Tennis Academy is available at all holiday destinations with this logo. In these parks, all tennis enthusiasts can improve their skills in the largest German tennis school and number-one DTB/VDT tennis school recognised abroad.
World-class tennis camps: At our hotels and clubs with this logo guests will find Patricio tennis parks of the absolute top class. The quality and number of tennis courts and the tennis infrastructure are highly ranked in the tennis world.
Located directly by the beach/indoor pool: Wherever this logo appears, the hotel complex is directly on the beach and/or offers an indoor pool, sauna, massage and fitness facilities.
Wellness: A further priority of these complexes is the professionally run wellness oases
Tennis: Hotels and clubs with this logo feature high-quality sand courts.
Fitness: One highlight of these resorts is the fitness studios, which are large and fitted with high-quality equipment.
Conference: The hotels are equipped with modern conference centres, which are ideal for conferences, workshops or seminars for either groups or incentive trips.
Family: This logo indicates family-orientated hotels.
*Tour operator: Patricio Travel GmbH (HRB Passau 3694) I Am Hafen 8 I D-94130 Obernzell I Mail:tennispoint@patriciotravel.com I Hotline 08591/9399288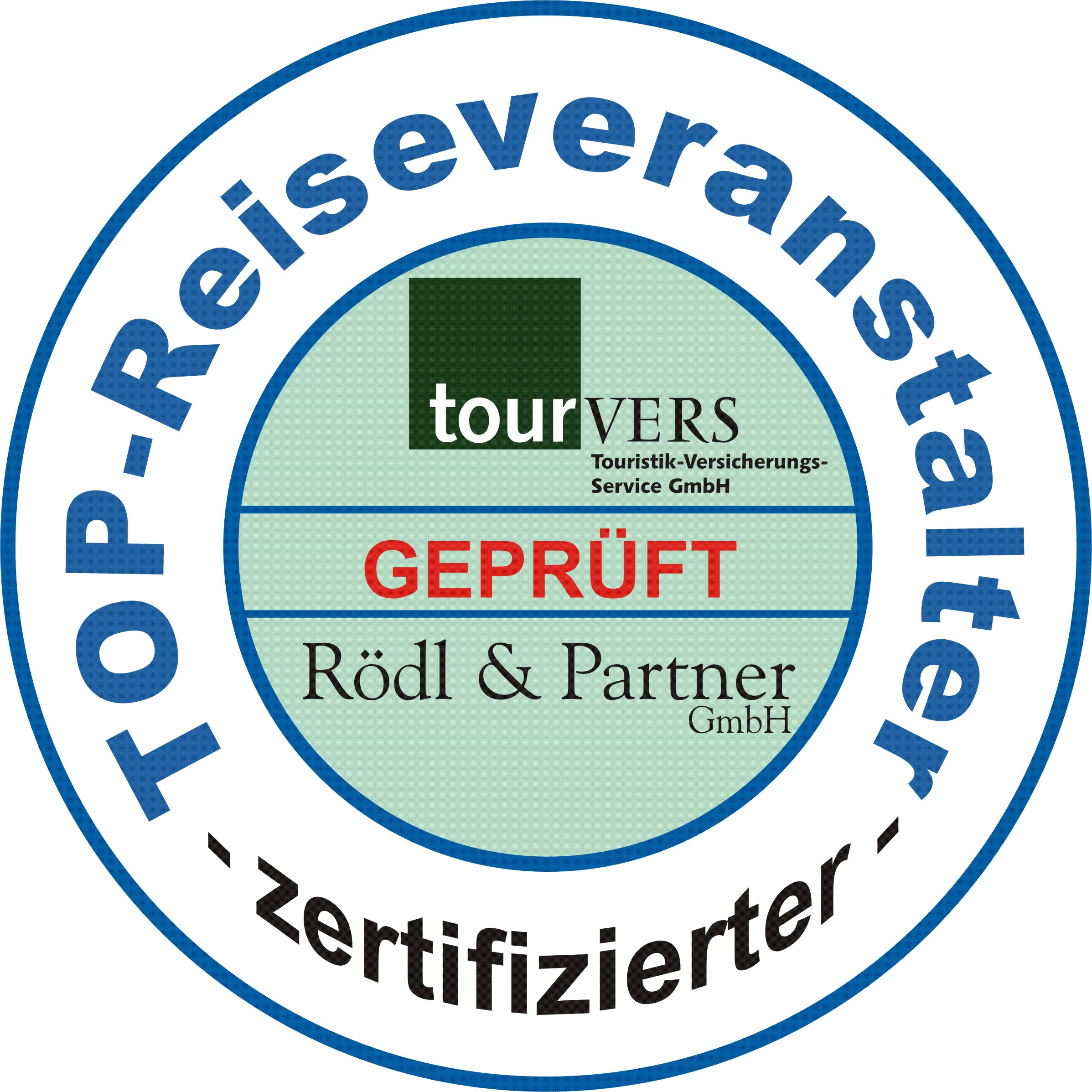 20 YEARS PATRICIO TRAVEL
Patricio Travel has organised holidays for active holiday makers since 1996. The first hotel in Antalya was the Ali Bey Belek, today's Güral Premier Belek. In 1998, six tennis courts were made exclusively for Patricio Travel. The success principle: tennis courts and tennis schools manged solely by us has been maintained up to the present day. At the Ali Bey Club Manavgat, which has been in operation since 2001, Patricio presently has 65 courts and as such is the largest tennis camp in the world. Since 2003, Patricio Travel also travels to Bol (Croatia). Tekirova and Sorgun were added in 2011 and 2013. In the meantime they are also present on Mallorca. A total of over 200 courts in these seven camps can be enjoyed by Patricio Travel guests. Over 400 tennis groups made use of this unique offer this year.

Europe's number one when it comes to tennis travel.


7 Patricio tennis camps in Antalya, Croatia and on Mallorca.

Over 200 sand courts with 100% availability guarantee.
Over 400 groups travel with Patricio Travel every year.


PCT Tennis Academy - for all age groups, demands and levels of play.